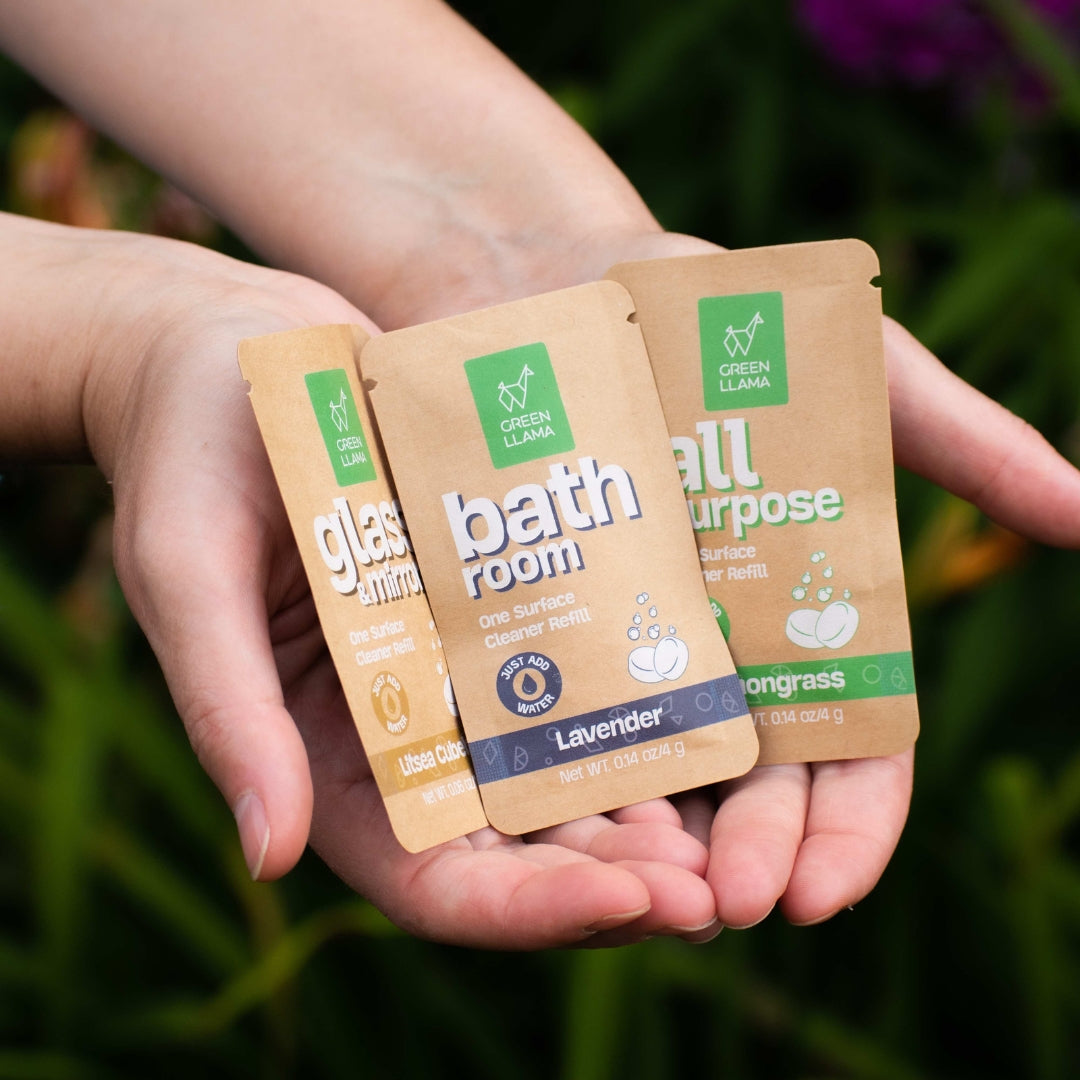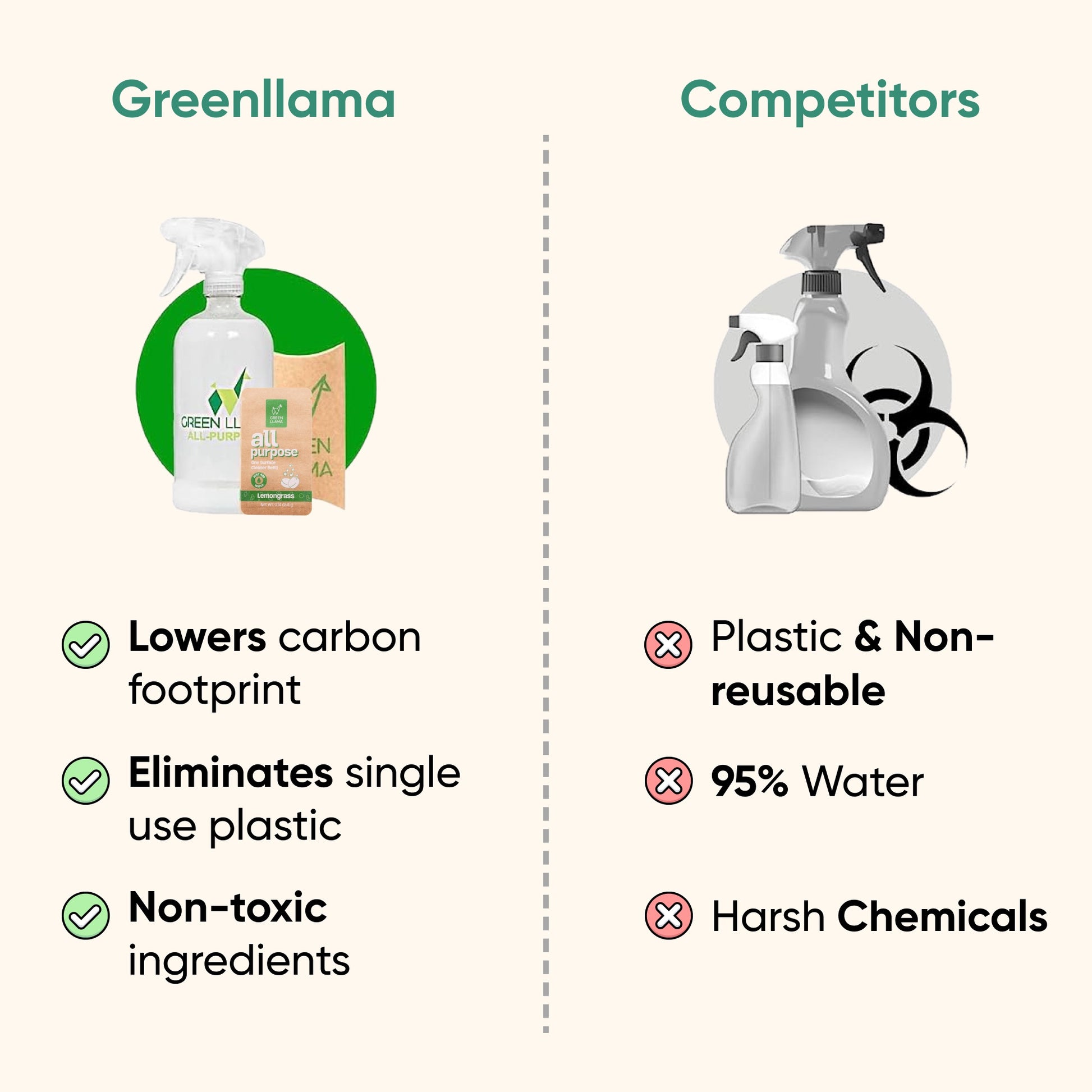 Green Llama - Cleaning Refill Tablets Bundle - 1 of each Refills
Sale price
$7.25
Regular price
Unveil the future of sustainable cleaning with the Green Llama Refill Tablet Bundle. This curated introduction offers a glimpse into our innovative, eco-friendly cleaning tablets, promising unparalleled effectiveness without compromising our planet's well-being.
Our bundle showcases three signature cleaning tablets, each meticulously crafted from potent natural components to ensure a deep clean without the use of harmful chemicals:
All-Purpose: A versatile cleaner that breaks down grease and grime, leaving surfaces spotless, all while filling your space with the refreshing scents of Lemongrass and Geranium Essential Oils.
Glass & Mirror: Experience a flawless shine on all your glass surfaces with our natural glass cleaner, complemented by the uplifting aroma of Litsea Cubeba Essential Oil.
Bathroom: Tackle the challenges of the bathroom, from dried soap to limescale, with our potent bathroom surface cleaner. The soothing, herbal scents of Lavender and Rosemary Essential Oils make cleaning a calming experience.
Beyond the effectiveness of our tablets, our dedication to the environment shines through. Our tablets come packaged in a compostable pouch, symbolizing our unwavering commitment to reducing plastic waste and championing eco-friendly solutions. As Taylor R. shares, "The GreenLlama Clean Tablet Sample Pack was a revelation! I got to try all three cleaners, and they're all fantastic. I'm definitely switching to GreenLlama for all my cleaning needs!"
So, are you ready to redefine cleaning? Dive into the world of eco-friendly cleaning with the GreenLlama Clean Refill Tablets Bundle and embark on your sustainable cleaning journey today!
All-Purpose
Sodium Coco Sulfate, Sodium Citrate, Sodium Gluconate, Sorbic Acid, Lemongrass Essential Oil, Polyvinyl Alcohol
Glass & Mirror
Sodium Coco Sulfate, Sodium Citrate, Sodium Gluconate, Litsea Cubeba Essential Oil, Polyvinyl Alcohol
Bathroom
Sodium Coco Sulfate, Sodium Citrate, Citric Acid, Sodium Benzoate, Potassium Sorbate, Lavender Essential Oil, Rosemary Essential Oil, Polyvinyl Alcohol
Explore the potential of our eco-friendly cleaning tablets to help reduce plastic pollution and energy waste. At Green Llama, we're committed to integrating these green solutions into your daily cleaning regimen. Follow these simple steps to use our refillable cleaning tablets:
Start by placing your preferred Green Llama cleaning tablet into a 16 oz. Green Llama glass bottle.
Next, fill the bottle with warm water and wait for the tablet to fully dissolve. Remember, patience is key—do not shake the bottle.
Once the cleaning tablet has completely dissolved, your eco-friendly cleaning solution is ready for action.
If you have any questions about using our refillable cleaning tablets, our team is always ready to assist. Experience the ease and environmental benefits of tablet-based cleaning with Green Llama today.
Green Llama - Cleaning Refill Tablets Bundle - 1 of each Refills