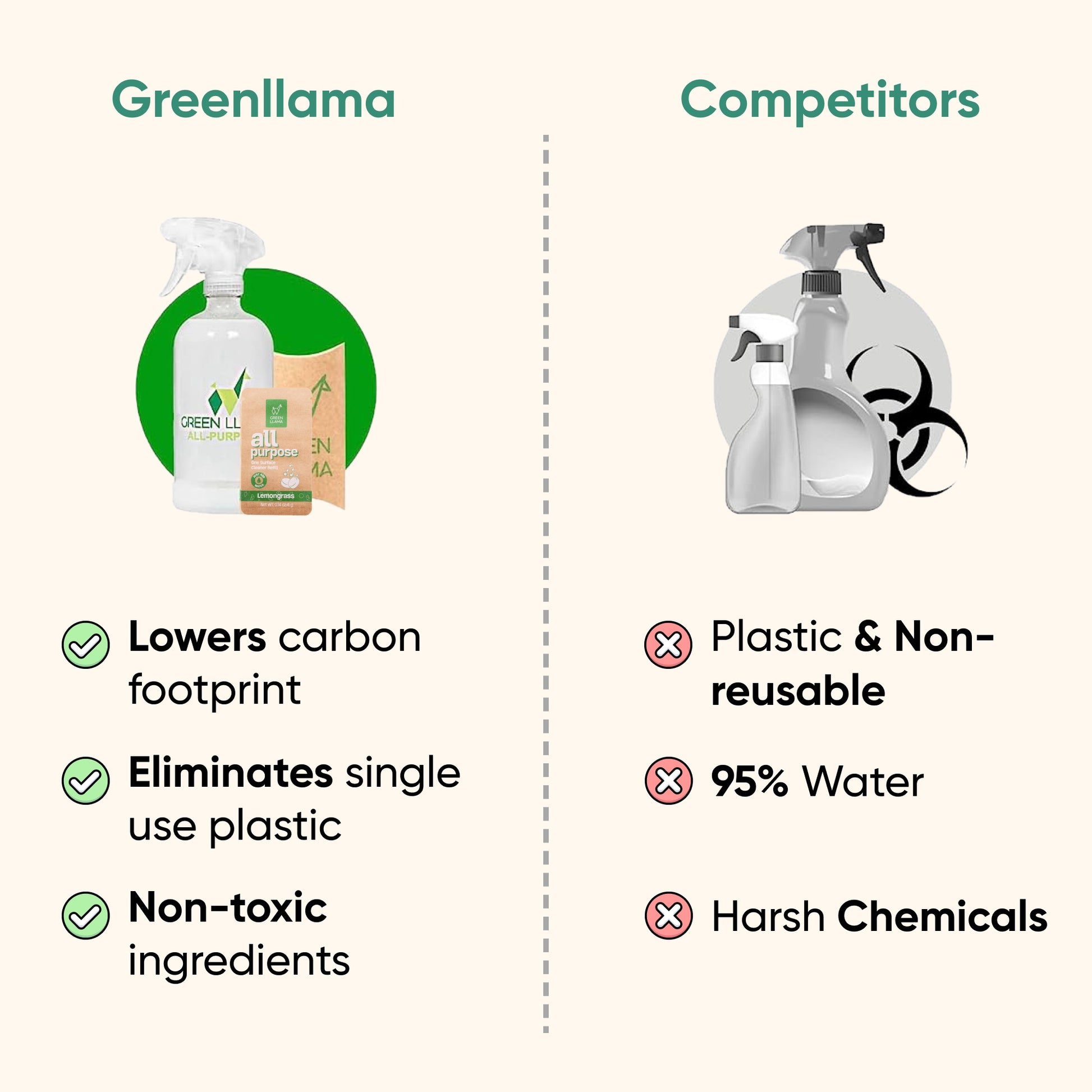 Green Llama - 100% Streak-Free Glass and Mirror Cleaner Refill Tablets
Sale price
$2.49
Regular price
Revolutionize your window and mirror cleaning routine with Green Llama's Glass and Mirror Refill Tablets. These innovative tablets are the epitome of streak-free shine combined with environmental consciousness. Experience the transformative power of our cleaning tablets, meticulously designed to deliver unparalleled clarity on all your glass surfaces.
Citric Acid, Sodium Carbonate, Sodium Coco Sulfate, Sorbitol, Sodium Benzoate Litsea Cubeba Essential Oil
Keep it Simple
Start by placing your preferred Green Llama cleaning tablet into a 16 oz. Green Llama glass bottle.
Next, fill the bottle with warm water and wait for the tablet to fully dissolve. Remember, patience is key—do not shake the bottle.
Once the cleaning tablet has completely dissolved, your eco-friendly cleaning solution is ready for action.
Green Llama - 100% Streak-Free Glass and Mirror Cleaner Refill Tablets
Works Like a Champ
Love Green Llama glass cleaner!
Best Glass Cleaner
This is the best glass cleaner!
Hello Virginia,
Although your review dates back a little, our appreciation for it is timeless! We're over the moon to hear you consider our glass cleaner to be the best. Your support and encouragement means the world to us!
Green Regards,
The Green Llama Team
Glass Pods are AWESOME!!
I've never been able to wash windows very well, usually ending up with streaky, hazy glass. Not any more - Green Llama is GREAT to work with and is cost effective and sustainable in several dimensions.., Love this product!
Glass cleaner works great!
Love this glass cleaner! No streaks, leaves glass and mirrors super clean with no streaks. The pods are so easy and save space at home. Customers have been loving this product!
Amazing!
Do yourself a favor and buy these for everyone you'd like to have gifts on hand for! Works SO much better than Blueland— you'll be impressed! The packaging is amazing and the pods are tiny!