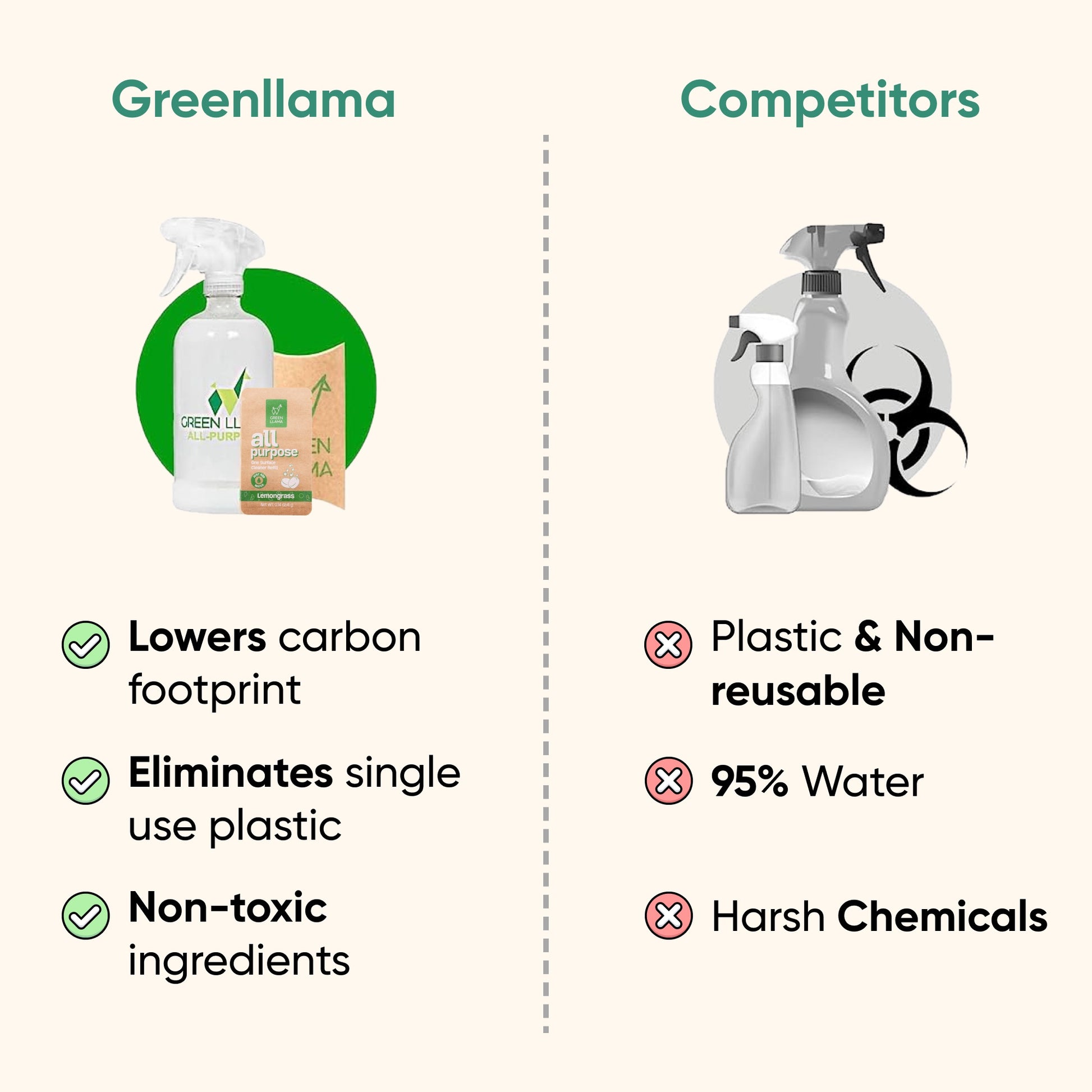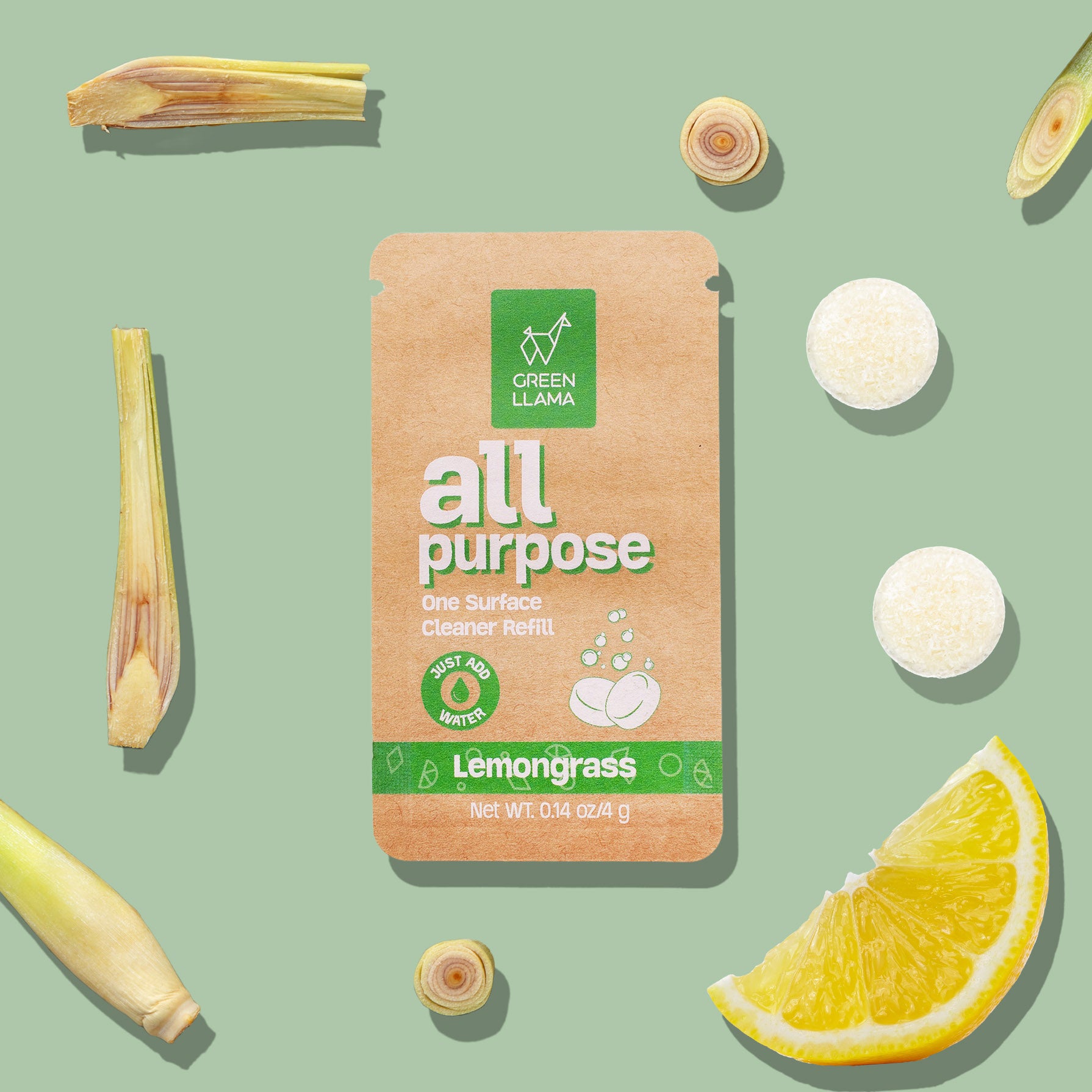 Green Llama - All-Purpose Cleaner Refill Tablets
Sale price
$2.49
Regular price
Discover the future of green cleaning with Green Llama's All-Purpose Refill Tablets. Harnessing the power of nature with ingredients like Sodium Coco Sulfate and Sodium Citrate, these tablets deliver a potent clean while championing sustainability. Revel in the invigorating aroma of Lemongrass Essential Oil, ensuring every corner of your home radiates freshness. Our unique blend, featuring Sodium Gluconate and Sorbic Acid, guarantees that dirt and grime are effortlessly eliminated.
But it's not just about cleaning; it's about caring for our planet. Our tablets come in a compostable pouch, drastically reducing plastic waste. Proudly cruelty-free and devoid of harmful chemicals, you're not only protecting your home but also the environment. Make the switch to Green Llama's eco-friendly cleaning products and redefine cleaning: powerful, planet-friendly, and purely natural.
Citric Acid, Sodium Carbonate, Sodium Coco Sulfate, Sorbitol, Sodium Benzoate, Lemongrass Essential Oil
Keep it Simple
Explore the potential of our eco-friendly cleaning tablets to help reduce plastic pollution and energy waste. At Green Llama, we're committed to integrating these green solutions into your daily cleaning regimen. Follow these simple steps to use our refillable cleaning tablets:
Start by placing your preferred Green Llama cleaning tablet into a 16 oz. Green Llama glass bottle.
Next, fill the bottle with warm water and wait for the tablet to fully dissolve. Remember, patience is key—do not shake the bottle.
Once the cleaning tablet has completely dissolved, your eco-friendly cleaning solution is ready for action.
If you have any questions about using our refillable cleaning tablets, our team is always ready to assist. Experience the ease and environmental benefits of tablet-based cleaning with Green Llama today.
Green Llama - All-Purpose Cleaner Refill Tablets
All Purpose Refill Pods
So easy to use and it cleans well. The best part is no plastic or harsh chemicals!
Hey Joan,
Whoa, you've hit the Green Llama milestone with your 5th order! Consider yourself a VIP member of the Green Llama fan club. We're sending you virtual high-fives and a big thank you for your continued support.
And speaking of support, your review of our All-Purpose Refill Pods is music to our eco-friendly ears. We're stoked that they're making your cleaning routine a breeze without any plastic or harsh chemicals. It's like a cleaning wizardry without the questionable stuff!
We're here for you, Joan. If you need more of our magical cleaning concoctions or have any questions, just give us a shout. We're always ready to make your cleaning adventures a little more exciting and a lot more planet-friendly.
Thanks a million for being an awesome part of the Green Llama tribe!
Best regards,
The Green Llama Team
Fabulous Cleaner
Feels great to have a product around the house that works great and is safe around my family.
Hi Bonnie,
Your review is as fabulous as our cleaner! So glad it's making a positive difference in your home. Thanks for being part of our eco-friendly mission. Enjoy the shine!
Best,
The Green Llama Team
Love them!
Eco friendly, easy to use, smells great, fully recyclable packing
Hello Camden,
Better late than never to express our gratitude for your wonderful review! We're thrilled that you love our eco-friendly, user-friendly products and fully recyclable packaging. Thanks for choosing Green Llama and contributing to a greener planet!
Best Wishes,
The Green Llama Team
All purpose cleaner and window cleaner
These cleaners are so great, I keep stocking up and giving them away!
Hi Susanna,
Though time has passed, your kind words are still appreciated! It's fantastic to hear that you're not just using, but sharing our cleaners too. Thank you for helping to promote a greener way to clean!
With Gratitude,
The Green Llama Team
Love these pods!
These work great and are very easy, save space and reduce packaging. Wonderful product!