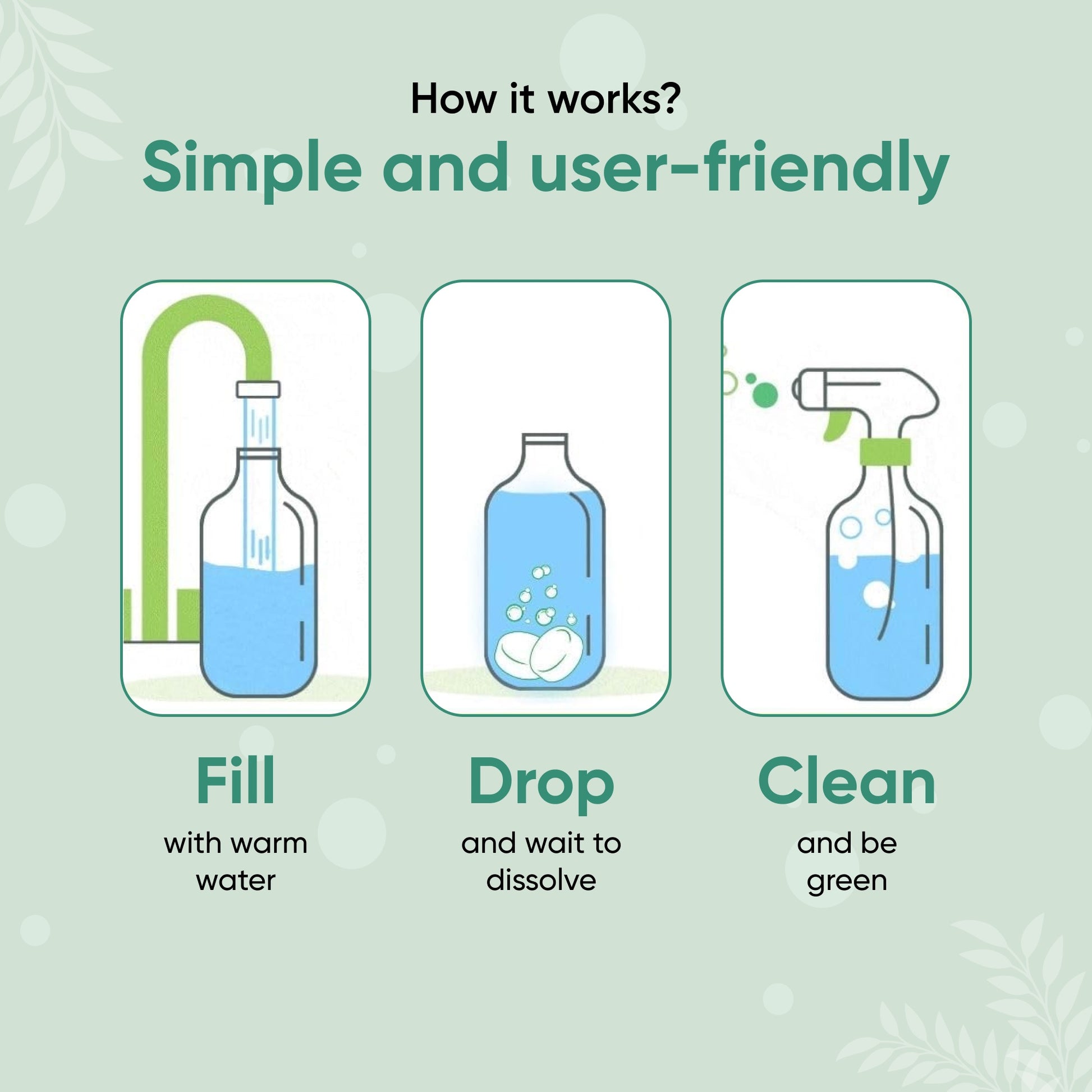 Green Llama - Refillable All-Purpose Cleaning Kit with One Tablet Refill
Sale price
$12.95
Regular price
Experience a cleaner, greener home with Green Llama's Refillable All-Purpose Cleaning Kit. The kit offers exceptional cleaning performance with the help of potent ingredients like Sodium Coco Sulfate, Sodium Citrate, and a hint of Lemongrass Essential Oil. Our all-purpose cleaning tablet, supplied in a compostable pouch and a reusable bottle, effectively reduces plastic waste. Our customers rave about its effectiveness and refreshing aroma. This eco-friendly, non-toxic cleaning solution is free from harsh chemicals, making it safe for you and the environment. Transform your cleaning routine with Green Llama's sustainable and effective cleaning kit today.
Sodium Coco Sulfate, Sodium Citrate, Sodium Gluconate, Sorbic Acid, Lemongrass Essential Oil
Keep it Simple
Explore the potential of our eco-friendly cleaning tablets to help reduce plastic pollution and energy waste. At Green Llama, we're committed to integrating these green solutions into your daily cleaning regimen. Follow these simple steps to use our refillable cleaning tablets:
Start by placing your preferred Green Llama cleaning tablet into a 16 oz. Green Llama glass bottle.
Next, fill the bottle with warm water and wait for the tablet to fully dissolve. Remember, patience is key—do not shake the bottle.
Once the cleaning tablet has completely dissolved, your eco-friendly cleaning solution is ready for action.
If you have any questions about using our refillable cleaning tablets, our team is always ready to assist. Experience the ease and environmental benefits of tablet-based cleaning with Green Llama today.
Green Llama - Refillable All-Purpose Cleaning Kit with One Tablet Refill
Glass Cleaner
Excellent. Cleans well without streaking. So easy to dissolve packets into glass container. And no plastic to throw away!
5 stars is best, i guess? I bought my second kit because i wanted one in my bathroom and one in my kitchen! Great cleaning products. Also, love cotton cleaning cloths!
I LOVE IT!
I know it might sound silly to be so excited about an all-purpose cleaner, but I am blown away by it! It is such a cool product that is enjoyable to use, works amazing, and smells great. I'm always looking for easy ways to be more environmentally conscious, and this was perhaps the simplest and most rewarding eco-friendly change I've ever made. Way to go Green Llama!!
MAKES CLEANING LOOK GOOD
Love this product so much AND I also love how it looks on my counter!
The monochromatic design and glass bottle fits perfectly in my kitchen. Everything down to the silicone base looks great and assures that I don't shatter any glass while I am scrubbing away.
This is a no brainer. Feel good knowing you are using eco friendly products that actually work and that look good, because cleaning should be pretty.
XOXO