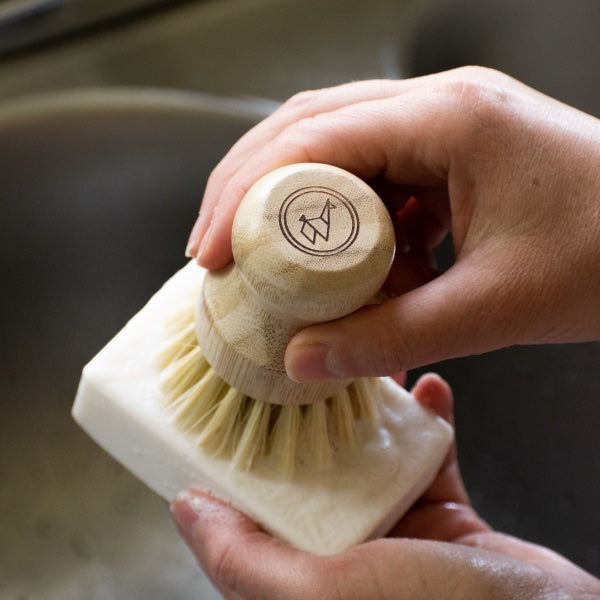 Complete Dish Washing Starter Bundle - Solid Soap, Bamboo Holder, & Scrub Brush
Sale price
$15.95
Regular price
$0.00
Experience a revolution in eco-friendly cleaning with the Green Llama Coconut Soap Dish Bar, designed to effortlessly cut through grease and grime while prioritizing our planet's health.
Key Features/Benefits
Single-Ingredient Power: Made with saponified coconut oil, known for its potent cleaning properties.
Eco-Friendly Packaging: Lovingly encased in compostable materials, reducing waste and environmental impact.
Chemical-Free: Absent of harmful chemicals, ensuring a non-toxic, safe cleaning solution for your household.
Versatile Use: Pairs perfectly with bamboo dish scrub brushes or natural loofah sponges for a comprehensive clean. (not included)
Handcrafted to perfection, the Green Llama Dish Soap Bar is more than just a soap; it's a testament to sustainable living. Its unique coconut oil bar soap recipe produces a rich, foamy lather that not only leaves dishes sparkling but also respects the environment. Stand out from the crowd by choosing a dish soap that aligns with eco-conscious values and delivers unparalleled cleaning performance.
Our commitment to the environment is unwavering. From the coconut soap recipe melt and pour process to the compostable packaging, every aspect of this product is designed with sustainability in mind.
Join the Green Llama community today and redefine your cleaning routine. Choose healthier, choose sustainable, choose Green Llama Clean - Coconut Soap Dish Bar. Buy Now and embrace eco-conscious living!
Saponified Coconut Oil: A natural and powerful cleaning agent that's gentle on the environment.
For optimal results, wet the soap bar and rub with a scrub brush or loofah sponge to produce a rich lather. Clean dishes as usual and rinse thoroughly.
Complete Dish Washing Starter Bundle - Solid Soap, Bamboo Holder, & Scrub Brush
Excellent dish block!
Highly recommend. It does a great job on greasy frying pans and everything. I like to use it with a long-handled brush.
Hello Padmala,
Your kind words just made our day! It's fantastic to hear that our Dish Washing Starter Pack is your ally against greasy challenges. Paired with a long-handled brush - sounds like a dream team!
Thanks for the thumbs up and for choosing Green Llama. Happy cleaning!
Best wishes,
The Green Llama Team
Dish Washing Starter Kit
I was so excited about how versatile this product is, I just had to send out the news! I may have already reviewed it as a great option for cleaning dishes but I have found a great new use. Don't know why, but I cleaned my stainless sink and grate with the brush and soap. It was perfect! If you have had a stainless sink, you know it can be hard to clean and keep clean. Also, the grate gets dirty on all sides. The brush hits all sides and so much faster. I have used softscrub in the past, which works but not as well and takes longer. No scratching the sink! I highly recommend this product. In fact, I just ordered my second one so I could have one for the dishes and one for the sink.
Hey Kathy,
Wow, you're a cleaning wizard! Who knew our Dish Washing Starter Pack could double as a sink savior? Thanks for sharing the hack and for being a Green Llama enthusiast. You're making stainless steel shine and Mother Earth smile.
A second pack for the sink? That's what we call leveling up in the cleaning game!
All the Best,
The Green Llama Team